Been searching the internet for 'scrap metal recycling near me'? We've got the answer with a drive-through scrap recycling centre in Brisbane.
If you've heard that you can make money from selling your scrap metal in Brisbane and make cash out of it, you're probably wondering the same as many others do: "where can I find scrap metal recycling near me?" At Tall Ingots, we have the answer.
As one of the leading scrap metal dealers in Yeerongpilly, Brisbane, we are changing the face of the scrap metal recycling industry, one piece of scrap at a time.
Based in Yeerongpilly, central Brisbane our scrap metal recycling centre is near and accessible to most suburbs in Brisbane.
Our drive-through scrap metal recycling centre presents an even more convenient option. For recycling of scrap metal in Brisbane, it's never been easier.
Scrap Metal Recycling in Brisbane: Drive, Weigh, Cash
Our unique drive-through service allows you to bring your scrap metals straight to our recycling facility. The process is simple and effective. Drive into our scrap yard with your scrap metal, have it weighed on the spot, and receive cash for your scrap there and then. The speed, convenience and efficiency of this service set us apart in the scrap metal recycling industry. If you've been looking for scrap metal recycling near you, and you live in the Brisbane area, our drive through scrap metal Brisbane recycling at Tall Ingots is the perfect solution. Located in Yeerongpilly in Brisbane, it's close to the Brisbane City and most central Brisbane suburbs.
You can trade in your junk metal for cash, and you can do so quickly and efficiently with our drive in, drive out service.
Simply:
Drive in

Get your metals weighed

We'll pay cash to you on the spot

Drive out.
With exceptional customer service, great scrap metal prices and no hidden fees, our residential, domestic and commercial customers can all earn money for their scrap metals and raw materials.
Offering Cash for Scrap:
An Unbeatable Deal
At Tall Ingots, we're in the business of transforming your waste materials into a source of income. With over 80 years of combined experience in the scrap metal recycling industry, we understand the market and ensure you get competitive cash for scrap prices. Whether it's commercial metal or household scrap metals, we value your contribution to metal recycling and reward you accordingly.
Competitive Scrap Metal Prices: The Tall Ingots Advantage
We understand that pricing plays a crucial role in choosing a scrap metal recycling facility. That's why we offer competitive scrap metal prices for all types of scrap metals. We strive to provide you with the best cash for scrap deals, ensuring that you get the most out of your unwanted scrap metals.
We Buy All Types of Scrap Metals
Your scrap metal doesn't have to gather dust. Tall Ingots accepts all types of ferrous and non-ferrous metals, including aluminium, copper, lead, stainless steel, zinc and other non ferrous metals, turning your industrial metal waste into cash for scrap. We also purchase electronic waste, making us your versatile solution to scrap metal recycling.
Whether you're looking to recycle non-ferrous metals like aluminium, copper, or stainless steel, or have ferrous waste materials such as steel, Tall Ingots is your go-to scrap metal dealer. We accept a wide range of scrap metals, ensuring that your recycling needs are fully met. No scrap metal is too little or too unusual for us.
When you earn cash via Scrap Metal Recycling, you help the environment
Recycling scrap metal not only earns you cash for scrap but also contributes to a more sustainable future. Each piece of industrial scrap metal recycled reduces the demand for virgin materials, aiding in energy conservation and reducing harmful environmental impacts. At Tall Ingots, we believe that every piece of scrap metal, from industrial metal waste to junk metal, is a potential resource. Our services are not only designed to provide you with cash for scrap, but also to protect our environment. Every piece of scrap metal recycled is a step towards a cleaner, greener future.
Scrap metal recycling is a win-win for you and the environment. Apart from the obvious financial gain, recycling scrap metals reduces the demand for virgin ore mining, saving energy and preventing harmful greenhouse gas emissions. Whether you are dealing with industrial scrap metal or household junk metal, Tall Ingots is your go-to scrap metal recycling facility in Brisbane.
Our Scrap Metal Collection and Recycling Process
It's as easy as driving into our scrap yard. We provide an efficient, hassle-free service that allows you to bring your scrap metal to our facility in Yeerongpilly, Brisbane. Upon arrival, your scrap metal is weighed on the spot with our modern equipment, ensuring you receive accurate and fair scrap metal prices. But the best part is, you don't have to wait for your cash. We offer cash for scrap right there and then, eliminating unnecessary delays.
A Modern Fleet and State-of-the-Art Equipment
Tall Ingots boasts a modern fleet of vehicles and the latest scrap recycling equipment, which enhances our scrap metal collection services. We can handle any amount of scrap metal, making us the ideal choice for those with large quantities of industrial metal waste. No job is too large or too small for us; we cater to all your scrap metal needs.
Convenient Scrap Metal Recycling Near You
Ideally located in Yeerongpilly, Brisbane, Tall Ingots is easily accessible to most Brisbane suburbs. Our proximity and convenience are some of the reasons why we are the preferred choice for those searching "scrap metal recycling near me". We pride ourselves on servicing a broad range of clientele, from individual households to trades, other scrap metal dealers, industries, and government entities.
An Emphasis on Environmental Responsibility
At Tall Ingots, we are dedicated to promoting green practices in the scrap metal recycling industry. All our employees are rigorously trained on environmental safety, and we operate in compliance with all government environmental protection rules. We take pride in being a company that not only gives cash for scrap but also contributes to an environmentally sustainable future.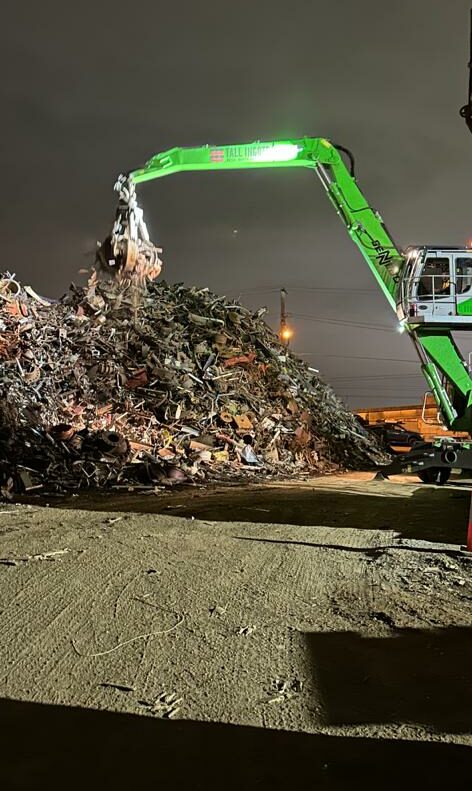 Scrap Metal Collection Made Easy with Our Drive-Through Service
With our drive-through service, the process of scrap metal collection is completely redefined. No need to worry about long waits or inconvenient offloading. Our streamlined process ensures your scrap metal is efficiently weighed and promptly paid for. And the best part? You never have to leave your vehicle.
Conveniently located in Yeerongpilly, Brisbane, our facility is easily accessible to most Brisbane suburbs. This easy access combined with our drive-through service makes us the prime choice for anyone in Brisbane searching for "scrap metal recycling near me."
Don't want to drive in? We can come to you for scrap metal pick up
Our services go beyond our scrap yard. If you have a large quantity of scrap metal and no means to transport it, don't worry. We offer scrap pickup services and can come to you to ensure your scrap metal is adequately disposed of. Our services include a mobile crane for lifting heavy scrap metals on-site.
Top scrap metal dealers in Brisbane, top service
Tall Ingots is not just another scrap yard; we are a scrap metal Brisbane recycler that understands the value of scrap metal recycling and its impact on the environment. Whether you have a heap of scrap cars or a handful of scrap metals, we provide a great recycling experience. Our competitive scrap metal prices and top-dollar cash for scrap offers are designed to ensure you get the best out of your waste materials.
Backed by 80 years of combined experience, our team at Tall Ingots offers innovative solutions to scrap metal recycling. Our drive-through service is just one example of how we continually evolve to meet the needs of our diverse customer base. From trades and other scrap metal dealers to industry businesses and government entities, we service all sectors with the same level of expertise and commitment.
With Tall Ingots, scrap metal recycling is no longer a chore, but an opportunity to make a difference environmentally and financially. So, the next time you think, "Where can I find scrap metal recycling near me?" remember Tall Ingots, your reliable, cash-for-scrap dealer in Brisbane.
Contact us today or drive in to see us and turn your scrap metal into cash!
Turn Your Industrial Metal Waste into Cash Today
If you're grappling with piles of industrial metal waste or have scrap metals cluttering your space, bring them over to Tall Ingots. With our drive-through service, you can get rid of these materials quickly and effortlessly. We take all kinds of scrap metals and offer you cash for scrap right on the spot.
Drive in to see us today and experience the simplicity of drive-in, weigh, and cash-out scrap metal recycling.