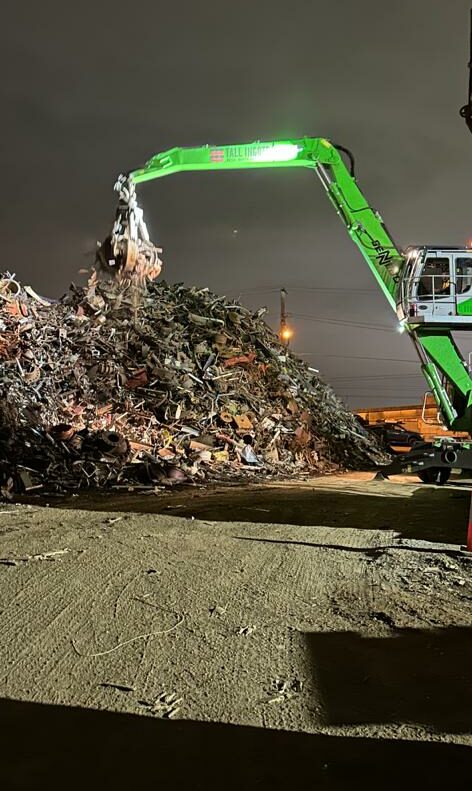 We want your scrap metal, Brisbane!
Tall Ingots is a privately owned & operated scrap metal recycling company based in Yeerongpilly, Brisbane. We have clients extending all throughout Queensland, the Northern Territory and the Pacific Islands.
With over 80 years combined experience, our management team and scrap metal dealers provide a versatile & innovative approach to scrap metal solutions. This approach has enabled us to secure local, state, and commonwealth government contracts as well as servicing well known private companies.
We have a modern fleet of vehicles, skip bins, and the latest scrap metal recycling equipment based right here at our Brisbane facility.
Do you find yourself inundated with unwanted scrap metal? Perhaps you've got piles of old computers, taking up space, or you're cleaning out an old building? Maybe you've just purchased an air conditioner and need to scrap the old one? Whatever the case, you can turn all that space-wasting scrap metal into cash.
At Tall Ingots, we pay cash for all kinds of scrap metal, including both ferrous and non-ferrous metals. We make the process as easy as possible with our bargain scrap metal prices, so you can make cash fast.
No matter how much, how little, or what kind of scrap metal you might have, Tall Ingots is Brisbane's go-to scrap metal recycler.
Recycling scrap metal is an environmentally friendly choice. Manufacturing with recycled products can decrease CO2 emissions, and helps keep the earth clean at the same time. By using recycled metals, we work together to limit the amount of natural resources mined from the earth, as well as the amount of scrap metal going back into our landfills.
We rigorously train all of our employees on environmental safety, and we operate in compliance with all government environmental protection rules, so you can be sure that our waste disposal process is as ethically and environmentally friendly as possible.
Any Amount of Scrap Metal – No Job Too Big or Too Small
We're not worried about the size of your scrap metal collection. Regardless of how much unwanted scrap metal you bring or how much you need removed, we're here to take it off your hands. Whether you just need to get rid of a few old computers or you have a whole truck filled with scrap steel – or copper, or aluminium – we want what you have.
Maybe you've taken down a metal fence and need to dispose of it. No problem; with our weighbridge, we can accommodate even large truckloads of scrap metal and ensure you get a great price for it.
We Accept All Kinds of Scrap Metal
Rather than simply focusing on one type, we're equipped to deal with all kinds of scrap metals. Whether you need to dispose of scrap metal by the truckload or you're getting rid of a few things from your home, we've got you covered. From air conditioner units, old fencing and motors to fixtures, plumbing, and wiring – even computer parts and other electronics – we've got you covered. We're even equipped to handle electronic waste, so no scrap metal is too much, too little, or too unusual.
We offer scrap metal pickup services as well as drop off, so even if you don't have an easy way to get your unwanted scrap waste to us, we can help you dispose of it. We operate a fleet of trucks, so no scrap metal removal job is too large, and we're even equipped with a mobile crane in case you need heavier industrial scrap metal to be lifted on-site.
Cash Payments And Competitive Prices
As your local, efficient and experienced scrap metal merchants, we always offer prompt payments. We can even pay you cash on the spot, no worries.
With our large on-site scrap metal weight displays, you can watch the heaviness of your scrap increase to ensure 100% transparency in our process.
We want you to be paid fairly, which is why we offer extremely competitive pricing for your scrap metal.
We've taken steps to ensure that selling your unwanted scrap metal or industrial metal waste is never a hassle. With our weighbridge and drop off area, we have a drive in drive out system, making scrap selling as simple as possible for you.
Even in rainy weather, selling scrap is a breeze. Our scrap drop off area is covered, so no matter what the sky is like, your scrap metal recycling is as simple as these three steps: drive in, get paid, and drive out.
With over 80 years of combined experience in scrap metal recycling, our management team ensures a versatile and innovative approach to scrap solutions. Our long-standing relationships with local, state, and commonwealth government entities, as well as well-known private companies, are a testament to our industry-leading reputation.
Situated only 8KM from the Brisbane CBD, our facility in Yeerongpilly is easily accessible. Coupled with our straightforward drive-thru service, you get a hassle-free experience every time you drop off your scrap metal.
Scrap metal recycling with Tall Ingots is not just profitable for you, but also benefits the environment. By using recycled metals, we reduce CO2 emissions, minimise landfill waste, and cut down on the need for mining new materials. Our strict adherence to government environmental protection rules ensures the entire process remains green.
Accommodating All Scrap Quantities and Types
Whether it's a small batch of unwanted electronic waste or large truckloads of scrap steel, aluminium, or copper, we handle it all. Our advanced facility is equipped to manage everything from home appliances to industrial leftovers, ensuring you have a one-stop solution for all your scrap needs.
Transparent Pricing and Prompt Payment
With our state-of-the-art weighing scales and displays, we provide 100% transparency in our pricing process. Not only do we guarantee competitive prices for your scrap, but we also offer immediate cash payments, ensuring you get value quickly and fairly.
Comprehensive Pickup Service
If you can't come to us, we'll come to you! Our modern fleet of vehicles, including those equipped with a mobile crane, ensures we can handle pickups of any scale. Our service, combined with our top-dollar pricing, makes scrap disposal convenient and profitable for you.
Bring In Your Scrap Today
No matter how much, how little, or what kind of scrap metal you're dealing with, our scrap metal recyclers at Tall Ingot are ready to take it off your hands and make sure you are compensated appropriately.
Give us a call or contact us online today!